| | |
| --- | --- |
| SMIC | |
SENJU METAL INDUSTRY Co ., Ltd
SPARKLE ESC ECO SOLDER
SPARKLE ESC is a flux cored solder specially developed for Lead-Free soldering. The solder wettability and solderability properties of SPARKLE ESC are significantly improved compared with those of existing Lead-Free flux cored solder, and soldering workability is comparable to that of existing Sn-Pb solder.
ECO SOLDER RMA98 Super is a highly reliable flux cored solder. It not only offers reliability for flux residue after soldering but also exhibits excellent solderability and less spattering of flux or solder particles.


ECO SOLDER Paste
Lead-Free ECO SOLDER Paste developed by SMIC is a next-generation solder paste that meets environmental requirements. Compared with existing solder paste, ECO SOLDER Paste solves various Lead-Free problems such as preservation stability, supply stability, solder wettability, and heat resistance resulting from the higher melting point.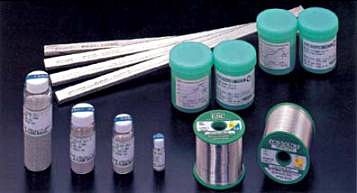 SPARKLE FLUX ES SERIES
ES series Sparkle Flux is a post-flux developed for the Lead-Free soldering of PC boards. Lead-Free solder has rather poor solder wettability compared with existing Sn-Pb solder. However, solder bridges, icicles, blow holes and other problems in Lead-Free soldering can be reduced to a level equivalent to those of existing Sn-Pb solders with the use of the ES series Sparkle Flux.